Adjustable Speed Limiting & Ergonomics
Tilt steering, a comfortable bucket seat for off-road ergonomics, and 5.7" of seat sliding adjustability for growing kids. Parents can also control vehicle speed and adjust with the skill level of the young drivers using the 4-Mode electronic speed limiting.
Long-Travel Front & Rear Suspension
Bumps in the yard and on the trail are soaked up by 5" of suspension travel up front and 6" of travel in the back. Plus a full 9" of ground clearance gives the Polaris ACE 150, and your young driver, the ability to navigate off-road obstacles.
Electronic Fuel Injected (EFI) 149CC Engine
The 149cc engine delivers a fun ride, consistent starting, improved idle quality, and a crisp linear throttle response. Polaris ACE 150 comes standard with electric start and automotive style controls, making it easy for young drivers to hit the trail.
Where comfort meets protection.
The Extreme Front Brushguard installs easily, comes with accessory light mounts built in for easy future upgrading, and provides you a convenient grab handle or place to wrap a tow rope when not in use.
Pro Armor® 20" Dual Row LED Light Bar
Extend your riding experience well into the night by adding a high intensity Pro Armor® 20" Dual Row LED Light Bar. The light bar features two rows of LEDs that pump out a whopping 9500 lumens.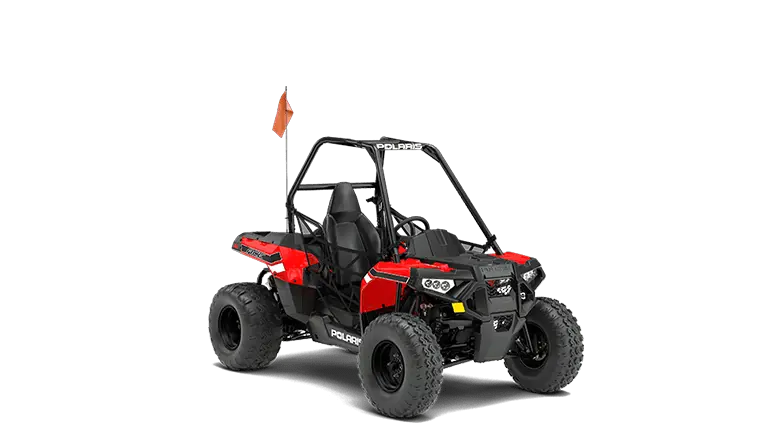 WIDTH

48"

DISPLACEMENT

149CC

AGE

10+
Polaris ACE 150 EFI
Starting at
$4,799
CA MSRP
Trim & Color Options
Indy Red
Includes:
4-Stroke Single Cylinder
Dual A-Arm 5.1 (13cm) Travel
Polaris GENERAL 1000 Gallery
( / )
* Manufacturer's suggested retail price (CAD) subject to change. The CAD is subject to a potential maximum increase of 5% for pre-ordered vehicles that ship after March 31, 2022. CAD also excludes destination and handling fees, tax, title, license and registration. Dealer prices may vary.

All pricing, specifications, claims, and information contained on this website are based upon current knowledge available at time of publication and are subject to change without notice, and Polaris assumes no responsibility for changes in pricing or specifications. Polaris assumes no responsibility for any inaccuracies, opinions, or omissions on this website. ©2021 Polaris Inc.