Share Your Sportsman Story
Polaris® Sportsman® is chosen by more ATV owners than any other in the industry. Whether you're out tearing up the trails, working out in the fields or weaving through trees to get to your deer stand, there is a Sportsman® story to be told. Share yours today.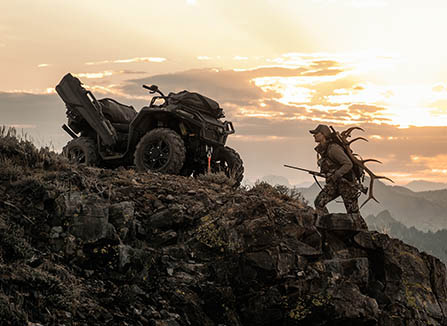 We want to hear stories big and small, so here are some ideas to help get you started:
Why you choose Sportsman for your outdoor adventures, like hunting and fishing
Memories you've made and good times had with family, friends and your Sportsman
How Sportsman helps you get work done
Submit your story one of three ways:
Upload a short video with you using your Sportsman and how much you enjoy it
Upload 1+ photos of your Sportsman being used
Tell us in your own words how much you love your Sportsman and why (minimum of 250 words).
*Photos and videos are encouraged and should have riders wearing appropriate safety gear, including but not limited to helmets.
Continue to share your Sportsman story, and have a chance to get featured by showing us how you use #SportsmanStories on Instagram, or Tweet your photos to join the conversation.