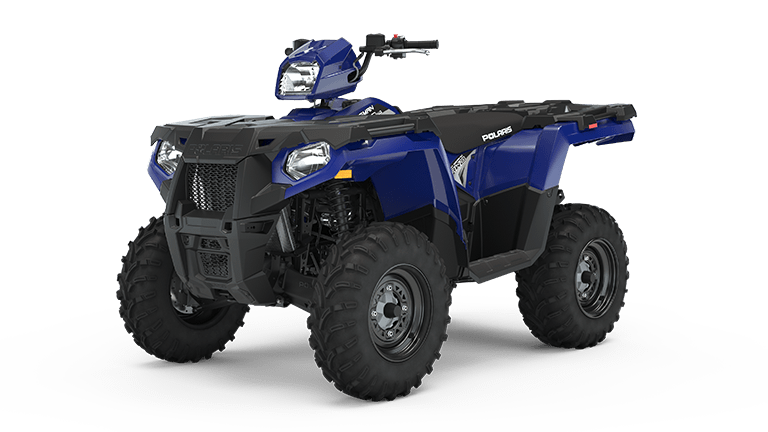 Sportsman® 450 H.O. 
Starting at
$6,249
US MSRP
Reliable Sportsman® power, performance, and comfort, all at a best-in-class value.
2019 Sportsman® 450 H.O. Sage Green
is rated out of
5
by
526
.
Rated

2

out of

5
by
Tommyboy57
from
Dissapointed
I already submitted a review and received no feedback on my comments. I do not even know why I am wasting my time with submitting this one. It has already been in for warranty repairs for rattles (cheap plastic) and two broken motor mounts. They were broken right off the show room floor. Clearly the dealership in Tomahawk, WI (Erv's, where I bought it, rather impulsively) must have used the machine and very roughly, as it is hard to believe it made it off the assembly line like that. My local dealership in Fond du Lac, WI (Fred's Fastrac) said they have never seen broken motor mounts like that. I am very disappointed and have been a long time Polaris owner.
Date published: 2019-08-23
Rated

2

out of

5
by
Rogue9948
from
Problems
Bought the bike in August. Rode it around my yard, easing it in for the first 25 hours like I was told. No problem. Hulauled it to the hunting camp with only eight hours use, opening day wouldn't start. Had to go to a dealer near by and neaded a new spark plug. Guy new what it was without looking at it. No problems rest of the week. Haul it home in snowy conditions in an open trailer. Cant get it to move a few feet. Sits for a couple days works fine. Hunt a second week where it had to be hauled. On the way home more snowy condition, bike again wouldn't move or run properly. Had dry again. Love the bike other than the fact you can't take anywhere on a open trailer unless it's clear skies.
Date published: 2019-11-24
Rated

4

out of

5
by
Nolco
from
Great machine annonying hicups
I bought this machine to use for snow plowing. The plow has since broken and been replaced under warranty. However I told the salesman I was going to use the machine for commercial sidewalks and the plow is definitely not up to the job. Next year I will have to purchase another plow brand. I think the idea is good but the cutting edge needs to be replaced again after one storm. Also the machine has done a few weird things when it gets wet ie check engine light coming on, sputtering, and stalling. I will say the warranty process for the plow was great. I came with a broken plow and left with a new one.
Date published: 2019-02-22
Rated

5

out of

5
by
A-ARON
from
Great ride
I baught this atv about 3 months ago. As far as smooth ride power for towing wood it lacks nothing. It's still new to me so some things are yet to be determined. I guess if I was forced to complain about something it would be the gas cap and the flat racks. Gas cap is hard to fill with 5 gallon tank which most use..... and the flat racks make it hard for aftermarket addons. I get that wasn't to sell you the Polaris addons but their is very nice American made gear that mounts to bars very easily that simply don't work well with this set up. Like I said if I had to complain that's all the rest of the machine has surpassed my expectations.
Date published: 2018-10-13
Rated

2

out of

5
by
Derb
from
Disappointed so far
I have had the bike for about two months. Excited to ride. Older 500ho has been great but getting a little tired and unreliable so I treated myself to a new one. Taken it up to the cottage three times now. Has come back each weekend basically unridden. Brake issues, won't start each time. Getting towed back to the trailer. Into the shop each time. Leaking brake lines again this weekend Won't start. Towed again. Back to the dealer. Maybe one day I can ride with the boys again. Starting to think I made a mistake and Polaris isn't making the bikes like they used to and without quality parts. Warranty is nice but Polaris should be doing something for me for the inconvenience and disappointment. Darren
Date published: 2018-07-05
Rated

4

out of

5
by
Nope1
from
Comfortable and easy to ride
So far so good but the rattle from the air cleaner neck hitting against the plastic by the fuel take drives me nuts! The shifter could be smoother and hit each gear with more definition instead of just passing by the wanted gear. Also the one break system on the rear should be switched to a second rear break in my opinion. I'm used to using alot of front break from my dirt bike days but this isn't a dirt bike. I do love the comfort and size of the quad and I haven't gotten past the break in period so I haven't been on the throttle too much to comment on power, but I'm sure it there. Overall I'm pleased but wish some of the things I mentioned in the top of were different.
Date published: 2019-11-29
Rated

1

out of

5
by
andrew009
from
pile of junk
i bout this machine almost 2 months ago and its been in the shop almost 2 month for warranty work, have nt had a chance to really ride it, polaris did handle the warrant on some stuff but it took forever to even get ahold of them for the warranty claim, the tires and rims were causing the machine to shimmy really bad, and the valves were ticking right when i got it, took machine to wheels in fargo nd. they basically said deal with it, contacted polaris and told them about my problems, the warranty center was hard to get ahold of, but they did a excellent job with honoring the warranty but it just took along time
Date published: 2018-07-18
Rated

4

out of

5
by
Hondo
from
Good amount of power.
I bought this in October 2018. Ran good but had an issue with it. It would not start and I was quite some distance in the woods when it did this. Took it back to the dealer. They found that the wires on the starter solenoid were loose as well as the battery terminals and the ignition switch was loose. They fixed it. It appears that it came from the factory that way. All is good now though. Took it out on my wood lot to do some work and it's fine now. I would give it a higher rating but it left me stranded in the middle of no where with only 6 hours on it.. But the dealer was great and I'm very satisfied with their work. They are the best!
Date published: 2019-01-16
Customer Reviews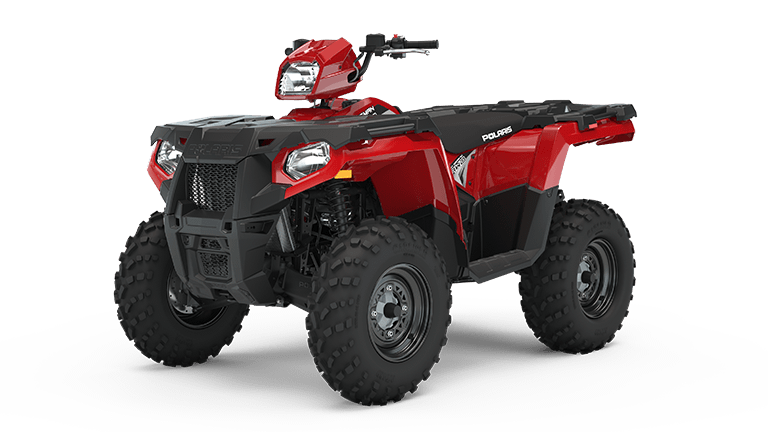 Sportsman® 570
Starting at
$6,899
US MSRP
Powerful 44 HP ProStar Engine, proven independent suspension, and On-Demand True AWD.
2019 Sportsman® 570 EPS Sage Green
is rated out of
5
by
674
.
Rated

4

out of

5
by
Caretaker
from
Awesome for a farm!
I bought this a few months back to help me with life on the farm. I'm a 41 year old combat veteran, medically retired after two back surgeries. My Polaris has allowed me to accomplish many tasks around the farm that normally I would have to ask for help to finish. My normal task included hauling a 25gal spray tank for spraying weed/grass killer (liquid weed eater), transporting Catfish feed, fertilizers, towing downed trees (not too big I leave that up to my tractor), landscaping maintenance on the farm, and I even find time to load up my cooler and rod and reel to do a little fishing. I'm very pleased with decision to purchase my Polaris.
Date published: 2018-07-09
Rated

5

out of

5
by
Tyger
from
Great investment lots of power fun to ride
Runs great loads of fun Not to big great for trail riders
Date published: 2020-01-19
Rated

5

out of

5
by
Trudge
from
Polaris 570 Sportsman review
I have had my 570 since September and have really enjoyed it. I think it was a mid life crisis purchase, since I am 53 and needed something fun to play with. I ride it every day. I leash up the dog, he runs and I ride. It is almost therapeutic, getting outside and riding. The machine has been flawless. Starts great. Throttles great with lots of power. A very stable ride. My 570 is a base model, I bought a 450 PS for my wife. I love the power steering. Will be adding power steering to mine soon. Polaris did a good job on these machines. Lots of value built in. I would buy them again. Shout out to Leaders RPM in Kalamazoo, Michigan. Great buyer experience.
Date published: 2019-12-29
Rated

4

out of

5
by
Biggs
from
Power Steering
I bought my 570 in late fall 2019, hours are very low so far but it handles great, I like the dash features and power steering. Owners manual says to run in low gear under 15 mph, to me this seems to rev up the engine and RPM's way more then needed. Over all happy with it so far. My first Polaris ATV.
Date published: 2020-01-19
Rated

4

out of

5
by
Dp-rider
from
Does all I need
Purchased my new 570 EPS in August, had a HO450 before which I loved but wanted power steering and Camo which meant have to move up. Takes a bit to get use to the engine braking with having to literally having to use the throttle to go down hill as completely opposite to what I was use to but otherwise the unit has been great. The suspension is a bit soft on this machine compared to my last one and I find it seems too bottoms out easier which with a load on it seems at times a little jarring. Otherwise I still get the pleasure of towing my buddies Yamaha around every time it breaks down or twice now gets stuck and I've been able to drive through...
Date published: 2019-11-07
Rated

2

out of

5
by
JDog0682
from
Initial Problems and Manufacturing Issues
We had the ATV a very short period of time and it had major mechanical issues. The ATV would not start. Returned to the Dealer and they said the battery froze. I replaced battery with an AGM (should be standard) so the issue would not return and less than a week later I had more starting issues leaving us stranded. Returned to the dealer again and they were finally able to diagnose that it had a bad starter and a bad solenoid. These issues were poor craftsmanship at the manufacturing site. We were very disappointed by the experience as we bought new to avoid running issues.
Date published: 2018-03-07
Rated

5

out of

5
by
Rebel leader
from
Everything I needed
My 2018 sportsman 570 was my first new quad. I've been looking at used for a long time and decided I didn't want someone else's headache. Best thing I've done as far as atvs go. Fuel injection fires right up. Display is easy to read and use. Suspension soaks up the trails and the winch helps get my buddies out. Haha. I use it to pull jet skis and my bass tracker in and out of the lake with no problem at all. I've had polaris snowmobiles and they r awesome but this gets used way more. Excellent buy and the price was right with 5 years of bumper to bumper. No worries here!! Thanks
Date published: 2018-03-22
Rated

5

out of

5
by
Debster
from
Love My Sportsman 570 Utility Edition!!
At first I was really reluctant at buying a brand new 2018 model. I thought wow it's a lot of money. Now I'm so glad I did, and we got it for a great price. I don't know how I would be able to work without it now. The hours that it saves me alone is worth every penny! We have a boarding kennel and a number of laying hens. Our Sportman takes on a lot of the work that I had to do manually before. It saves us hours and hours of back breaking work. I would highly recommend this machine, it'll pretty much do anything you throw at it :)
Date published: 2018-03-13
Customer Reviews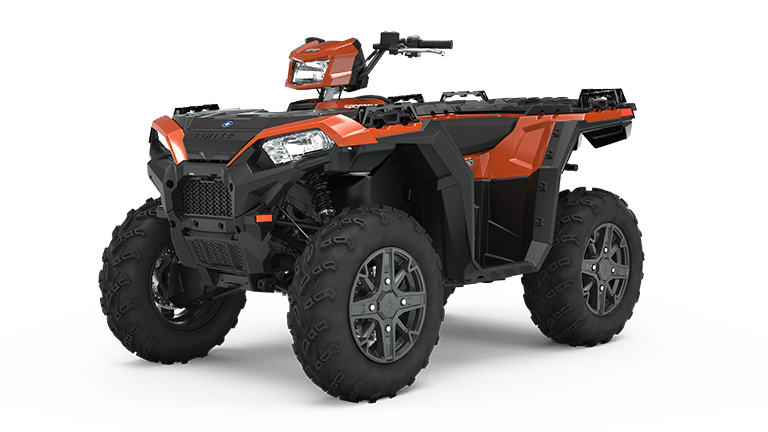 Sportsman® 850
Starting at
$8,899
US MSRP
Powerful 78 HP engine and rider active design for a legendary sport utility experience.
2019 Sportsman® 850 Sage Green
is rated out of
5
by
72
.
Rated

4

out of

5
by
Central Oregon Flat Tire
from
First Ride Evaluation, AWSOME!!!
I went out today for the first ride on a new machine, this 850SP is awesome.Power to spare, great handling? That exhaust note is sweet compared to my 2016 570. My only complaint is the CST tires. I had 2 flat tires in the first 20 miles. Both were small punctures on the side walls. If CST had any sidewall protection, i don't think this would have happened. Hey you guys in R&D you designed a great machine, why did you go cheap with these CST tires? I'm glad it has ample storage for an air compressor and plug kit or else I'd still be walking! I'd rate this 850SP a 5 star if it weren't for the cheap tires.
Date published: 2018-07-28
Rated

3

out of

5
by
DChaz37
from
Plenty power
I bought this 850 Sportsman for hunting and scouting. It has power to handle rough terrain but it's not an optimum hunting machine. It is too loud for hunting and it doesn't idle around at slow speed well. The differentials are noisy. Fuel consumption is higher than any other motorcycle that I have ever owned. It performs well in situations where it is being accellerated. There are wires exposed on the machine which brings concern about riding thru brush, briars and sapplings. I can't say that I am unhappy about the purchase but it certainly wasn't what I was expecting. I guess the Honda's Ive owned in the past just have me spoiled.
Date published: 2019-02-24
Rated

4

out of

5
by
CapnCoke8NoJoke
from
TONS OF POWER
I bought this atv in September of 2019. I used it for Hunting land management and rifle season for whitetail. Atv did everything and more. Lots of Power. We had some trails in the woods that were flooded and had an inch of ice on top and I was able to drive drive through it in AWD and low gear like it was nothing. Nobody else wanted to try to go through it. The only down fall is that It warmed up this Hunting season and the wheel wells and all the small little places underneath were just filled with mud. I mean so much it was touching the tires. Other then that I would highly recommend the 850. Cheaper then the 1000 and I don't think you will notice the 12 hp difference.
Date published: 2019-12-20
Rated

5

out of

5
by
Tommytankk
from
Beyond pleased!
I bought my Polaris Sportman 850 in March. I've put a couple hundred miles on since I've owned it and they've been hard miles mostly. I'm beyond pleased with it. The power of the twin cylinder high output engine nnis unbelievable. You can stand it up on two wheels without even trying. So far it's tackled everything I've put it through with no problems. It does great in the mud. And it's such a comfortable ride. The arched A-arms are so nice to have. My only complaint is the location of the radiator. It's plugs with much pretty easy. But it's also very easy to clean. Other than that this quad has been so great to me and has shown up quite of few other brands in the woods. My cousin said he will definitely purchasing a Polaris for his next quad after seeing how mine performs. I'm proud to say I own a Polaris!
Date published: 2018-06-25
Rated

4

out of

5
by
Grimster
from
Great Machine!
Only have 500 miles on it but so far so good. I moved into this from a 570 and I have to admit that it takes some getting use to due to the power. There has been a couple of times that I hit the throttle and it takes off way faster than the 570. I love that the grill comes out to make cleaning the radiator easy and the removable storage tray is awesome because it makes everything very accessible
Date published: 2018-06-25
Rated

4

out of

5
by
Anonymous
from
Definitely worth the price
I bought a new 850 sportsman, it's pretty good, thought it would have a touch more power. It's alright though. Nice cup holder. Needs a 2" receiver hitch. Could move the rear axle back a couple inches too. Over all a nice unit. Brake light switch don't work on foot brake. Cup holder is on the wrong side. Nice storage. Tires could be better. Smooth down the road at 83 though.
Date published: 2018-07-12
Rated

5

out of

5
by
Turbo Mike
from
Great machine, love it.
This is my third polaris machine, they just keep getting better. Excellent ride, excellent power, excellent fuel economy. I highly recommend the factory option racks and bumpers, really improves the look and utility of the machine, while protecting it as well. Dealer installed them before I picked it up, easy as that. The polaris plow is extremely easy to put on and off with no mounts hanging below the frame rails. Plows awesome. Extremely fast in the woods and pits. Sounds great with the new single exhaust just like the 1000. Very happy I decided to grab a 2019.
Date published: 2019-03-04
Rated

5

out of

5
by
Jbailey555
from
Nothing else like it!
Had this machine since early Spring. Use it extensively in the mountains. I live at 9,300ft. In elevation. This Polaris NEVER lacks power, dependability and comfort.
Date published: 2018-06-21
Customer Reviews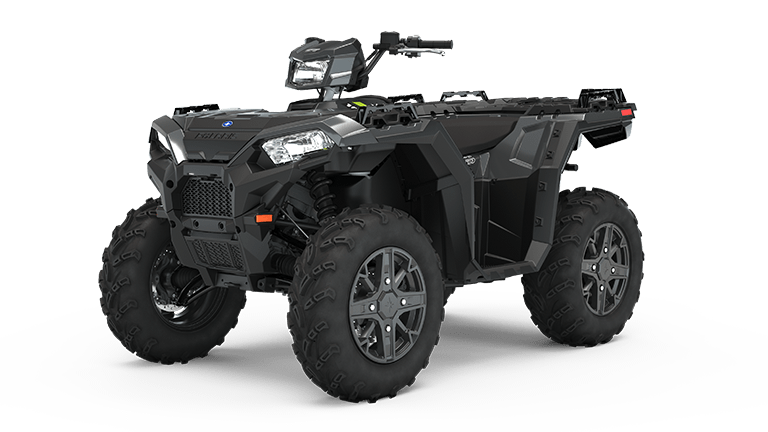 Sportsman® XP 1000
Starting at
$12,099
US MSRP
The most powerful ATV on the market for the ultimate sport utility experience.
2019 Sportsman® XP 1000 Radar Blue
is rated out of
5
by
103
.
Rated

3

out of

5
by
JohnT.
from
Good atv, but lits of electrical problems.
Have had atv since November 2017, I think its a good powerful atv, but I have hand numerious electrical issues from day 1. It is currently in the shop now for throttle posistion sensor.
Date published: 2018-03-07
Rated

5

out of

5
by
Wood laker
from
Great machine so far , better then my old canam !
I have only put on 350 km so far , no troubles but did have to tighten up front bumper bolts and one of the wheel caps fell off in the first 100 km. I do like the three position switch for adjusting the power output levels , that is one of the reasons I didn't buy the 850 model. I would recommend this model with all the factory installed accessories , but it dosent look like this model is available for 2020, what a shame ! Have not been to the dealer for service yet . Why doesn't it have a 2" receiver?
Date published: 2019-08-22
Rated

3

out of

5
by
Firegod50
from
Great ride!
I traded in my Can-Am 1000 outlander for the Polaris Sportsman 1000, the Polaris falls flat on its face in the low end power compared to the Can-Am. Thinking about going back to Can-Am.
Date published: 2018-03-07
Rated

1

out of

5
by
Robbie's Rides
from
I love it when it works properly!
I bought this bike a couple months ago. On the first ride I had to replace the power steering unit after only 3 km. And then it ran great for a couple days. On the third ride, I had to replace the belt and the clutch do to a misalignment and Polaris only warrantied the parts. I walked away from the store with a large bill for labor. Not very happy about that! Now the four-wheeler is back in the shop as it constantly runs 10 degrees hotter than my friends 1000 that was purchased at the same time. Hopefully they can figure out what is going on with this bike As It Seems to have some issues. It is not my first bike, I own four other Polaris ATVs that do not have any issues. I wish Polaris would just buy this one back! And one more thing, right after I purchased the bike my local dealer parted ways with Polaris. They were the best dealership I had ever been to, I purchased all my machines there and also had them serviced there. Now I have to drive an additional half an hour to get my machines serviced and with the way this bikes been acting up it has been at the shop more than I've been riding. As you can see I'm a little disappointed with the reliability of this machine, but when it runs good I absolutely love it! Well, this is the honest review of my 2018 Polaris Sportsman XP Le Matt copper Edition. Sincerely, A frustrated but loyal Polaris customer
Date published: 2018-07-05
Rated

5

out of

5
by
Milt
from
Fantastic!!
I bought the XP 1000 Premium before Memorial Day for some mountain and snow riding. The XP 1000 exceeded my expectations with quick power and torque. The factory tires really dug through the old spring snow on the high elevation forest roads. Very happy with this Sportsman.
Date published: 2019-07-29
Rated

5

out of

5
by
Roland
from
Smooth Fast Fun!
Just finished my 25 hour break-in period and this machine is FAST and FUN! The EPS is awesome, and this beast will definitely get your adrenaline flowing, especially in Performance mode. It took several rides before I was comfortable with the huge performance increase over my 2005 ATP 500HO, but after 25 hours it already feels like an old friend. The handling is sharp and the entire platform feels stable, but respect the immediate torque when you hit the throttle! Overall it's an awesome machine. A couple of minor issues are the Polaris rack extenders required me to remove the nice factory rack tie down bars. I still don't under stand why Polaris doesn't give some simple connections for Hi/Low/Backup lighting, or even a low current line to trigger a relay. When can we expect a front rack storage box to match the rear storage box accessory?
Date published: 2019-04-07
Rated

2

out of

5
by
????
from
Disappointed
Bought in September, already had problems. EPS went during the first snow storm. Took dealer three weeks to fix. Was told by dealer it was Polaris that wouldn't put a new EPS on machine.
Date published: 2018-12-17
Rated

3

out of

5
by
Mkreegs03
from
Stupid
6 mo in and only 25 hrs. Power steering failed on first muddy and rocky trail. Power and engine performance is stupid. Who needs that much power? Well...I forever will now.
Date published: 2018-06-22
Customer Reviews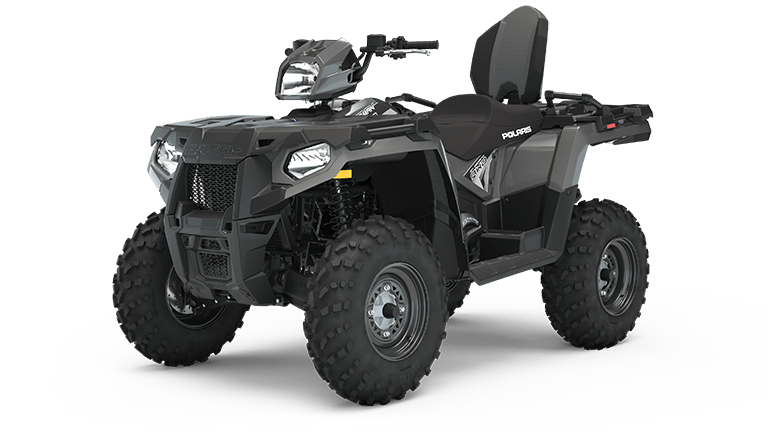 Sportsman® Touring 570
Starting at
$7,799
US MSRP
Integrated passenger seat system and legendary Sportsman® power and performance
2019 Sportsman® Touring 570 Indy Red
is rated out of
5
by
123
.
Rated

4

out of

5
by
Cobra427man
from
A bump start but I remain optimistic.
Good machine. Had a very rough experience when I picked it up from the dealer. The dealer I purchase it from never checked the oil as part of the "dealer prep" and I found a massive amount of water in the oil. Working with Polaris and another dealer, we got the issue addressed. Thank goodness I caught it early or that would have definitely caused engine failure. Only time will tell if there was long term damage to engine. Polaris was very responsive throughout the ordeal and made sure I was taken care of. As for the machine, this is my first atv as I normally ride 2 wheelers. I'm impressed with how the machine handles as well as its power.
Date published: 2019-05-29
Rated

4

out of

5
by
ReRun
from
Would of been Great, but it hates water!!!!!
We bought the Sportsman Touring 570 SP a couple months ago. Overall I rate this machine good and could of been great. But it's performance in streams / large puddles / water in general is disappointing. The first week of having this machine we had to use the Belt Drain plug to remove water from it's housing. The streams / puddles we were going in were no that deep, which makes no sense for us having to remove water. Other then some minor plastic issues, the machines power / acceleration and handling are amazing. Since most of the riding we do is in water, this has put a damper on our riding.
Date published: 2019-08-14
Rated

2

out of

5
by
Nick
from
More shop time then ride time
I bought a brand new out of the crate '18 570. Since the day I've bought it, I have regretted it. I have had so many problems it's ridiculous. It's been in the shop going on 4 times in two months for power steering going out and the engine dying. It really annoys me off when I have to drive an hour round trip to have them fix something that should be addressed and fix the first time. Personally. I'd go Yamaha next time.
Date published: 2018-03-03
Rated

4

out of

5
by
jflint79
from
Powerful, comfortable, capable
great fuel economy with a 6.8g fuel tank and fuel efficient engine. Plenty of power to take on any challenge a trail throws at you. Best 4x4 system is the industry hands down. Great suspension and very comfortable seat. i wish the foot wells drained better, mine clog with mud very easily. stock tires are ok for easy hard pack trails but you will want to upgrade if you do any mud riding. i wish the winch wasnt so low on the frame, if im stuck and need to use it chances are pretty high its buried above the winch. but overall i love the machine and have a lot of fun with it.
Date published: 2019-07-01
Rated

5

out of

5
by
John123
from
A lot of bang for your buck!
After a lot of research and comparison shopping I decided to purchase a 2018 sportsman touring 570 eps. Although one might get the impression that a quad with 570 cc might have less power than its competitors it actually rivals most others in hp. I've used it for both hunting and ice fishing and it hasn't disappointed. It pulled my ice shack out onto the lake with ease. The power steering is awesome! I think one would be hard pressed to find a smoother drive. The backseat is comfortable for a passenger and provides enough room for both driver and passenger. The new speedometer cluster is really cool and provides the driver with tons of info. I'm a very happy camper and don't regret my decision. Great machine for a fair price!
Date published: 2019-02-05
Rated

4

out of

5
by
Davids no
from
Bad battery access
Since I purchased this in the off season I wanted to connect to a trickle charger. Needless to say, access to the battery is about as difficult as possible. Took about 45 minutes reaching through suspension to get it done. Otherwise happy so far
Date published: 2019-03-27
Rated

4

out of

5
by
JasonD
from
2018 Sportsman 570 Touring SP
I bought this unit in March 2018 and so far I am happy with my purchase. It gets used mostly for working around the property with the occassional two-up recreational riding. The unit is comfortable. Powerful enough to handle everything I've needed to accomplish to date. And easy to maneuver and control. This is my second Polaris with the first being a 1998 Xplorer 400. I did look at other manufacturers, particularly Can Am since they were the only other provider of a comparable machine in a two-up design. Ultimately the final decision came down to price, dealer proximity to my home, and ultimately I decided to stay with Polaris since the Xplorer has been so reliable. Call it brand loyalty due to reliability and minimal issues.
Date published: 2018-06-26
Rated

5

out of

5
by
Bobt51
from
Excellent suspension and ride
I haven't put that many miles on yet but the few I have far exceeded my expectations. My wife and I rode near Yakima WA on the green dot road system for off road vehicles. Our inaugural ride was about 20 miles across steep and rough roads. The 570 Sportsman Touring performed better than was expected. The power is incredible, the ride is unmatched and after the ride, we did not feel like we had driven 20 miles of bad road. Thank you Polaris.
Date published: 2019-07-23
Customer Reviews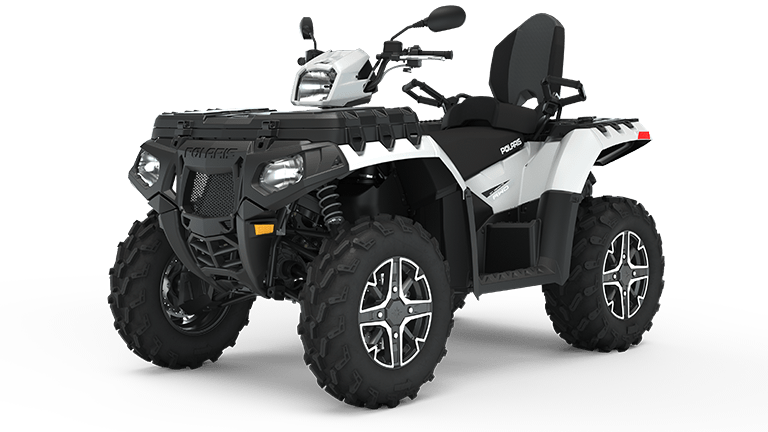 Sportsman® Touring XP 1000
Starting at
$13,299
US MSRP
Powerful 88 HP engine, premium XP Performance Package, and an integrated passenger seat.
Reviews for this model coming soon.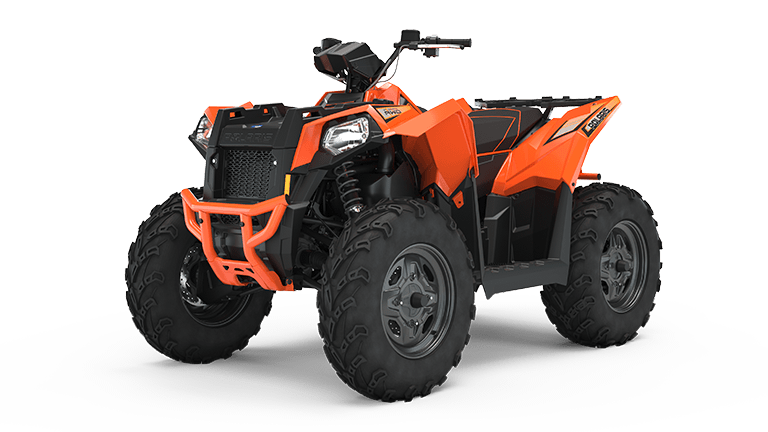 Scrambler® 850
Starting at
$10,299
US MSRP
Race-proven sport performance features and the Industry's Only Rolled Independent Rear Suspension.
Reviews for this model coming soon.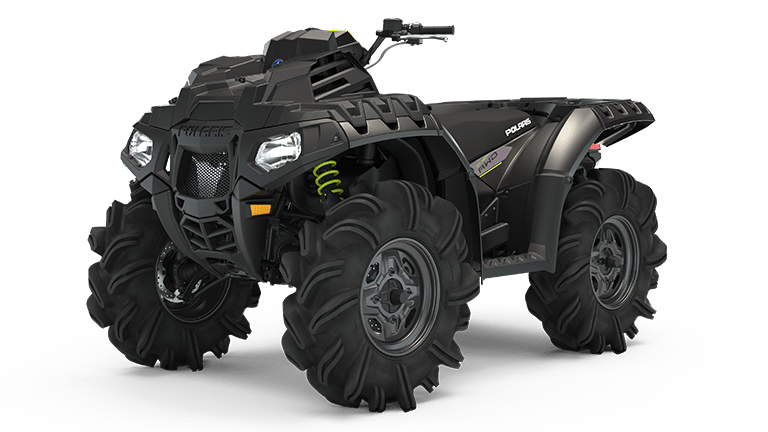 Sportsman® 850 High Lifter Edition
Starting at
$10,199
US MSRP
Signature Sportsman® 850 performance, with added capability to dominate the mud.
Reviews for this model coming soon.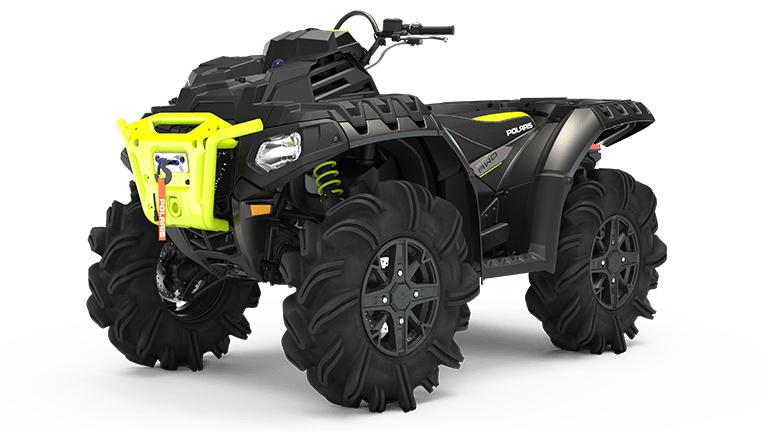 Sportsman® XP 1000 High Lifter Edition
Starting at
$14,199
US MSRP
Signature Sportsman® XP 1000 performance, with added capability to dominate the mud.
Reviews for this model coming soon.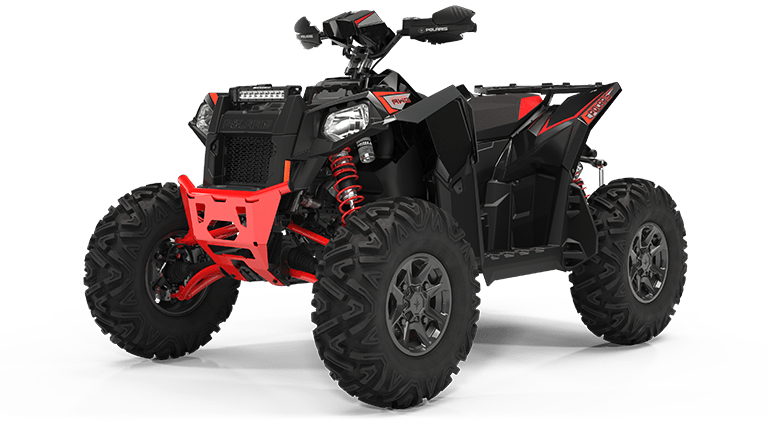 Scrambler® XP 1000 S
Starting at
$14,999
US MSRP
The industry leader in performance ATV, packed with long-travel suspension and triple adjust Walker Evans® Shocks.
Reviews for this model coming soon.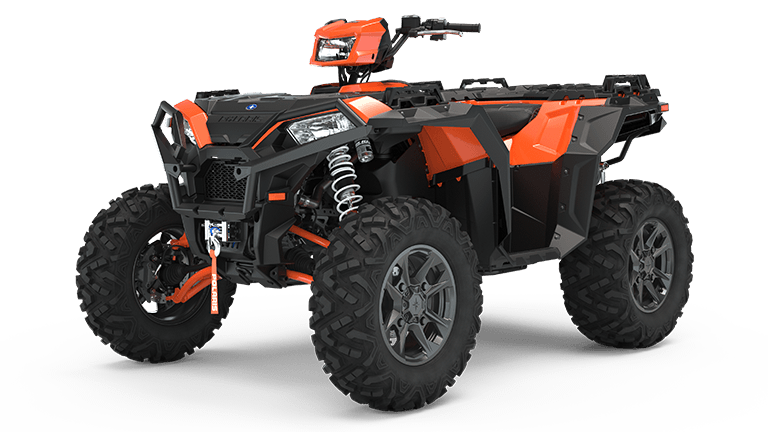 Sportsman® XP 1000 S
Starting at
$14,999
US MSRP
The Industry's most capable ATV, with unrivaled long-travel suspension and capacity.
Reviews for this model coming soon.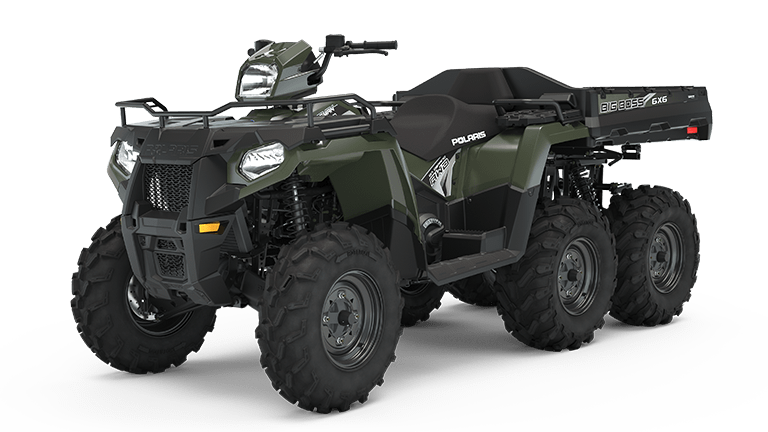 Sportsman® 6x6 570
Starting at
$11,399
US MSRP
The only 6x6 built for 2-up versatility. Equipped with the industry's largest cargo system.
2019 Sportsman® 6X6 570 Sage Green
is rated out of
5
by
18
.
Rated

2

out of

5
by
Poison oak sprayer
from
Good traction, good hauling capacity
Bought this for property management. Towing a brush mower, hauling a weed sprayer, carrying tools, hauling dirt and wood and what ever else. It is not geared low enough, pulls the mower too fast for it to do a good job. Hauls stuff really well though. Takes a lot to turn it around though. It is big, and there is power to all four wheels all the time. The machine, regardless of what Polaris says is not geared towards work. It is a four wheeler with an extra axel bolted on and a bed thrown on. It can haul a lot, but needs refinement to be a work horse. I don't regret my purchase, but if there had been a 6x6 with a manual transmission I would have bought it instead.
Date published: 2018-06-22
Rated

5

out of

5
by
Back-country Guy
from
Very useful, rugged machine, great in bush country
This 6x6 is incredibly useful, built very tough, yet handles with ease, and performs a variety of tasks in all seasons. Well designed drive train. So much better than a normal 4 wheel ATV.
Date published: 2018-12-08
Rated

4

out of

5
by
Old90
from
So far so good...
Pro's - the EFI and power steering are awesome... Starts no problem every time so far including in temperature of -25 Celsius. I have had the bike upto 52 miles/hr head on into a strong wind. That's more than fast enough for a hardcore utility bike. I have loaded the box (with the Yukon Adventure Rack) as high as I could with fire wood and it rides no problem but negatively impacts the already poor steering radius. Most importantly the bike has tonnes of pulling power for work and out of all bikes the factory tires on this on are probably the best although I will be upgrading to a wider front tire when I put ITP Mud Lite XTR's on it. The negatives: the gear shifter is by far the worst part of that and all Polaris products with the same shifter. It's very difficult to accurately and easily/effortlessly shift to exact gear position you want. Try to put the bike in neutral for example.... guaranteed ANYONE is going to go back and forth between reverse and low or high range at least two or three times before they can get it to neutral and it's difficult to get the shifter to shift in any direction most of the time. I absolutely hate the gear shifter..... Yamaha, Kawasaki and Canam, Suzuki all have far superior shifters. The turning radius is not good at all....but that's to be expected with the extra set of wheels in the back and knew that before buying the bike... That's ok. I wish the bike had a differential lock on AWD. The lock and rode gun boot mount sucks as the gumboot is not firmly seated and wobbles all over regardless of adjustment to firm it up. Finally the battery location is idiotic -i get it that it was to lower center of gravity for the bike....but it's just plain stupid - should be under seat like most other bikes...easy access etc.
Date published: 2019-01-27
Rated

5

out of

5
by
Deuce
from
Upgrading my 6x6
I've been very pleased with my 2013 Polaris 800 Big Boss but wanted the upgraded features available on the 2018 570 model. The power steering, two up seating and increased fuel capacity were the main attractions but the better fuel economy and reduced engine heat were bonuses.
Date published: 2018-11-24
Rated

5

out of

5
by
zanker42
from
Loved it
My 2018 polaris 570 6x6 Is the best, i use it to plow the driveway bring firewood out of the woods. I've had it in some deep mud and deep water never had any problem getting what i needed done and it getting me back home.
Date published: 2018-06-22
Rated

5

out of

5
by
BMoney
from
Big Boss does big things in a big way. Great value
Rarely does a major purchase live up to my expectations and almost NEVER do they exceed them. I did a ton of research before buying the Big Boss. They are not common in my area as the dealer said this was the first one they had sold New which surprised me a bit. The BB is exactly what I need for around the farm. We've moved a ton of landscape rock, soil, fence posts, lumber and more in and out of tight spots that my truck can't reach. The spring assisted dump on the BB is fantastic and works as advertised. I have not had to put it in 6 wheel drive yet at all. This thing is a beast!!! It wants to work. I got in the habit early of having a few different 5 gallon buckets kitted out with the tools/parts for different farm chores and I leave them by the BB and just grab one or two and put on the bucket holders straddling the second seat behind me. Very convenient. Plenty of storage in the front compartment. Enough for emergency tools, small fire extinguisher, first aid kit, etc. Very easy to drive. My girls (9 and 14) and wife had never been on a quad of any sort and yet took to the BB like a charm! They're both learning the basics of driving while helping out around the farm. Seems to be plenty of power - I'm a big guy and I've had my wife in the two up seat with the BB loaded with a ton of gear/tools while towing a small utility trailer filled with dirt/rock. The thing performed flawlessly. Overall, the BB was one of the best purchases I've ever made, and I don't say that lightly. Positives: spring assisted dump; two up; bucket holders built in; storage and towing capacity; easy to drive even for kids; plenty of power and traction; great value - lots there for the money you spend. Negatives: turn radius is fairly large but obviously much smaller than your truck; I want the biggger engine. Not sure I need it - seems to be plenty of power - but the option to spend a little more for the larger engine seems reasonable.
Date published: 2018-07-26
Rated

5

out of

5
by
Joe R
from
Amazing machine
This is way more capable for plowing snow than a regular 4 wheeler. Having the extra axle and weight pushes the snow easier and more of it. Love having the bed space as well and looking forward to using this next hunting season. Didn't take long to get used to the extra length.
Date published: 2019-12-29
Rated

5

out of

5
by
Mike946
from
Nice unit, used for working around the property.
This is my second 6x6 Polaris used my first one for 15 years for working on property. Never had any major issues with it, but kept up on routine maintenance. If this 2019 is anything like my old one I will be very pleased.
Date published: 2019-11-01
Customer Reviews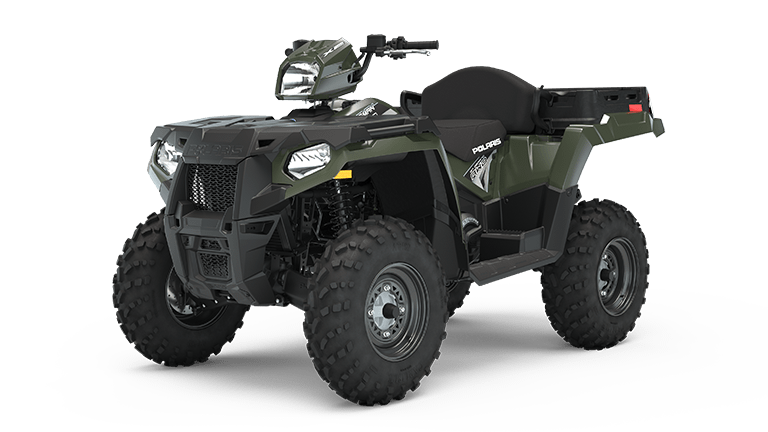 Sportsman® X2 570
Starting at
$10,199
US MSRP
Versatile, 1-Up and 2-Up configuration, a powerful 44 HP ProStar EFI Engine, and standard EPS.
2019 Sportsman® X2 570 Sage Green
is rated out of
5
by
21
.
Rated

5

out of

5
by
DebArt
from
Great versatility!!
This is the third time we bought this model as we like the versatility of it. The dump box allows us to carry almost anything that we need to transport when riding one or two riders. We LOVE the ease of using 2 Up conversion feature and the comfortable passenger ride it provides. The turf drive mode prevents drive train binding for ease of maneuvering.
Date published: 2018-07-05
Rated

5

out of

5
by
Rowell
from
Comfortable Ride
Like it so far. Easy to work on. Ride nice. Fun to ride.
Date published: 2018-06-25
Rated

5

out of

5
by
Papa
from
Versatile and fun
Bought the x2 January 2018 and it is a go anywhere do anything machine.
Date published: 2018-06-21
Rated

5

out of

5
by
Stripemarlin
from
Amazing
Great ride amazing handling. Love the fact it's fun and able to work hard too. Would buy another but I have a feeling this one is gonna last a while. Thanks for a great product!
Date published: 2019-08-08
Rated

5

out of

5
by
Mac man
from
Great machine
I love the rear dump bed and the fact that you can legally ride with two people.
Date published: 2018-11-06
Rated

5

out of

5
by
Ray A
from
Great features
I bought this for hunting so far it has lived up to my expectations
Date published: 2019-11-28
Rated

5

out of

5
by
Kevin5557
from
Plenty of power
We bought this a few months ago and we are very pleased
Date published: 2018-12-23
Rated

4

out of

5
by
steely27
from
power steering is great
This is my 2nd polaris. Even thou I had trouble with the 2008 2up touring I decided to give polaris another chance. While I only have 54 miles on it so far so good. I will give it a good work out in Arizona this winter. Send me another survey next summer for a more thorough review
Date published: 2019-11-16
Customer Reviews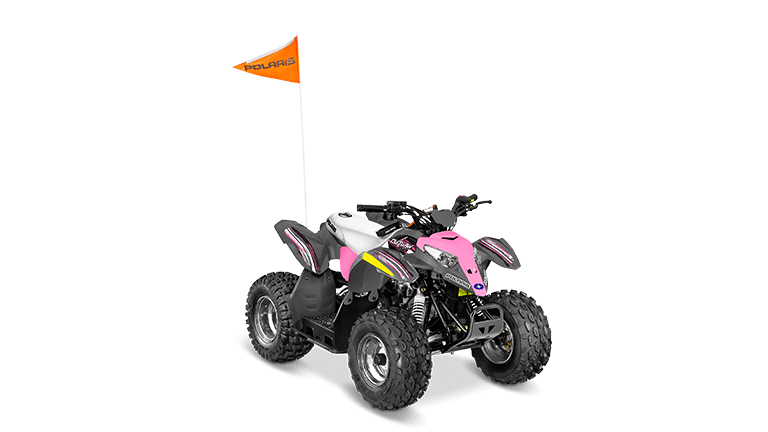 Outlaw® 50
Starting at
$2,199
US MSRP
49cc 2x4 with standard safely features for youth riders ages 6 and older.
Reviews for this model coming soon.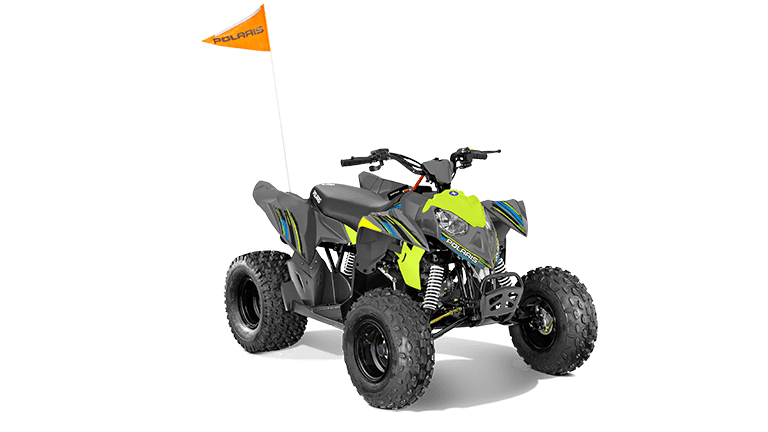 Outlaw® 110
Starting at
$3,399
US MSRP
112cc 2x4 with standard features for youth rides ages 10 and older.
2019 Outlaw® 110 Avalanche Gray/Lime Squeeze
is rated out of
5
by
46
.
Rated

5

out of

5
by
ChrisB
from
Great Quad
We could not be happier with this quad. Our son loves it and I am very impressed by it. It goes through mud, snow, and water with ease. It is fast but can be slowed right down. I like the grease points and the little details that it has that the cheap knock off brands don't. So far we are really happy.
Date published: 2019-06-25
Rated

5

out of

5
by
dwjrdto2000
from
More than I expected!
I bought this for my 10 year old daughter and she rides it until her thumb gets sore from the throttle, and then uses her palm on the throttle. It handles well and has plenty of power. I also love the EFI and the instant starts. Great 4 Wheeler!
Date published: 2019-06-25
Rated

4

out of

5
by
Rompster69
from
A very fun ATV for kids
I bought this ATV for my 9 year old son 4 months ago. He still rides it every day. I also go to a nearby network of 70 miles of ATV trails with him (I ride an adult ATV of course), and the little Outlaw 110 does wonderfully. Our only complaints relate to 1) the front break pads/shoes wore out a bit quicker than I would have wished; and 2) the rear clearance -- the chain and axle protector is about 2 inches lower than it really needs to be, leaving him only a bit over 4" of rear clearance. On the trails I sometimes have to get off my ATV and lift the back of his up to help him clear some boulders and such as a result. We were tempted to remove the guard piece as a result, but then damage would likely occur to the chain or axle.
Date published: 2018-06-21
Rated

4

out of

5
by
Ace23
from
Clean and user friendly bike
One thing that I could see would be a great change Is with having the foot break because the brake cables stretch way too often and putting some decent tires on it they don't wear out in a couple months it's a kids atv
Date published: 2019-11-07
Rated

5

out of

5
by
toonz15
from
Great Machine
I purchase this for my daughter and I'm very pleased the this machine. Now it's time for daddy to buy one.
Date published: 2019-03-25
Rated

5

out of

5
by
Sheldon
from
easy for young riders
Bought 2018 Outlaw 50 older grand daughter outgrew it so added the 110
Date published: 2019-07-26
Rated

5

out of

5
by
HiRev
from
Awesome Ride
Our family enjoys riding the Outlaw 110. They are very user friendly and handle very well.
Date published: 2019-07-13
Rated

5

out of

5
by
Gabby7
from
Great power and features.
I bought this for my granddaughter for Christmas and she loves it. It's also nice to be able control the speed for her. Has enough power that an adult can ride and it moves. Glad with bought this.
Date published: 2019-03-21
Customer Reviews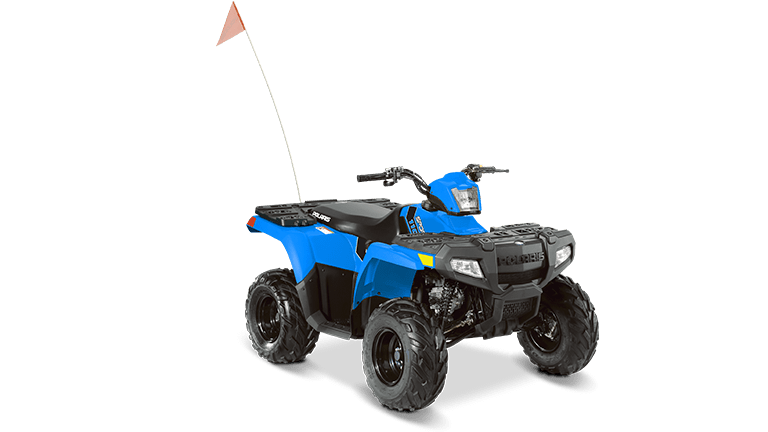 Sportsman® 110 EFI
Starting at
$3,399
US MSRP
112cc ATV, standard safety features. Perfect for youth riders ages 10 and older.
2019 Sportsman® 110 EFI Velocity Blue
is rated out of
5
by
32
.
Rated

4

out of

5
by
Ricky47
from
Love the reverse feature.
Christmas present for my son, replaced polaris outlaw 50. Only problem was solved over phone with service department from dealership. Reverse indicator light wiring connector was grounding out causing reverse light to come on while in forward gear and rev limiter to kick in. Wire connector joint plastic protector had slid off connection. Slid back in place and moved away from metal frame. Problem solved. Love this 4 wheeler!
Date published: 2019-03-18
Rated

3

out of

5
by
Zach77
from
Good Youth ATV for Kids With Riding Experience
Good overall youth ATV but needs improving for the current retail price. The bottom chain guard constantly gets caught on stumps or the slightest pile of dirt causing the ATV to high center and stop it in its tracks. The throttle adjustment screw for limiting the speed is not very effective and is my biggest complaint. It's hard to find a happy medium where you still have enough power to take off but not too much speed on the top end. I think the rider experience could be greatly improved by using an electronic speed limiter so you would still have full power available as you start off but then just have 1 or 2 adjustable preset settings for top speed. For my daughter who is 5 years old the gear shifter was a little hard to figure out the 1st few times she rode the ATV. Just a simple straight shift to Forward - Neutral - Reverse similar to that on the adult versions of the Sportsman lineup would be much easier for kids to manipulate.
Date published: 2019-06-20
Rated

4

out of

5
by
Chad77
from
Christmas Present
I bought my Sportsman 110 EFI 4-wheeler right before 2017 Christmas for my 3 kids. The kids enjoy riding this machine a lot. I bought it with the EFI so that they could start this machine on their own as I have heard other machines have a tough time turning over especially in the winter months. Unfortunately, this gave me a lot of trouble at first getting this started. I think a lot of it had to do with the battery being poor, so I had the battery replaced this spring and have not had any issues starting it, but it has not been cold enough to test it. I was pleasantly surprised at how much snow this machine actually goes through! Also, I noticed after I bought it that it did not have any sort of hitch connection for light duty work. I modified this to allow it to hookup to a pull cart and sweeper. Have to make the yard work fun!
Date published: 2018-06-25
Rated

5

out of

5
by
Carlmhirsch
from
Well Built Kids ATV
Extremely glad we paid the extra for a kid's Polaris versus getting the Chinese ATV's on the cheap. My boys love their 110's and seem to be a good fit for them for how they're used. I would highly recommend these ATVs for any youngsters
Date published: 2019-08-29
Rated

5

out of

5
by
Jackrabbit
from
Good for the kids
I bought it for Christmas present for the kids they love it. The only down fall is that with only 3 hrs of riding the starter gears broke and had to bring it to the dealer to get fixed
Date published: 2019-03-06
Rated

5

out of

5
by
Swandog
from
It's been great for the first 20 hours
No issues so far my ten year old loves it. It does well off road for being two wheel drive.
Date published: 2019-09-16
Rated

4

out of

5
by
DC Outlaw
from
Works exactly what I purchased it for
I am disabled, and I live on several acres. I utilize my Polaris to shuttle around my property, drag hoses, move things, go to the barn, etc. It does exactly what I want it to do. And with the EFI, it starts right up every time. I realize it is made for a kid, and I am a fairly heavy individual, but I just ride it around to navigate my property, and don't do any racing, etc. Works for me!
Date published: 2019-10-10
Rated

1

out of

5
by
radlyn2013
from
Not happy with product
Have had nothing but trouble with this product has been in the shop more than at our house.
Date published: 2019-08-21
Customer Reviews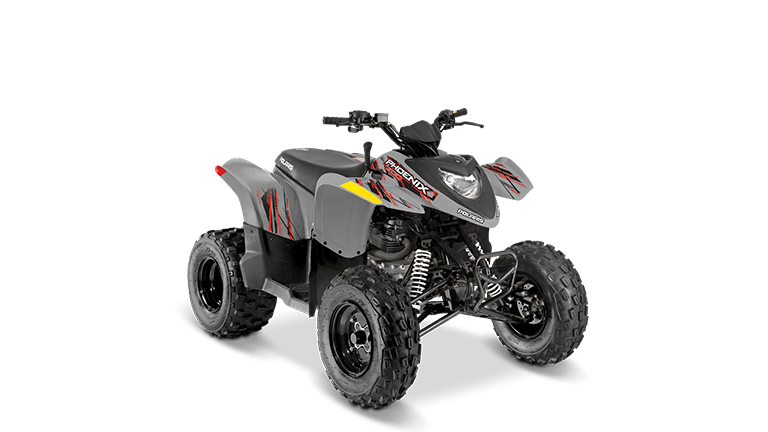 Phoenix® 200
Starting at
$4,199
US MSRP
196cc 2x4 with automatic PVT transmission for young riders ages 14 and older.
Reviews for this model coming soon.