Outlaw 70 EFI Bright White/Red Specifications
Find specifications below for the 2023 Polaris Outlaw 70 EFI Bright White/Red ATV. Specs include engine, horsepower, transmission/final drive, ground clearance, travel, engine braking system, instrumentation, lighting, suspension, payload capacity, hitch type, towing capacity, cargo system and tires.
Engine & Drivetrain
Cylinders Displacement
70cc
Drive System Type
2WD, Chain
Engine Braking System (EBS)
Not Equipped
Engine Type
4-Stroke Single Cylinder
Fuel System/Battery
Electronic Fuel Injection
Transmission/Final Drive
Automatic, Forward Only, CVT
Dimensions
Bed Box Dimensions (L x W x H)
N/A
Estimated Dry Weight
278 lb (126 kg)
Front/Rear Rack
N/A / 25 lb (N/A / 11.3 kg)
Fuel Capacity
1.5 Gal (5.68L)
Ground Clearance
4 in (10.2 cm)
Overall Vehicle Size (L x W x H)
56 x 35.5 x 35.25 in (142.24 x 90.17 x 89.5 cm)
Payload Capacity
140 lb (63.5 kg)
Seat Height
25.75 in (654 mm)
Brakes
Front Brakes
Hydraulic Disc, 1 Per Wheel
Parking Brake
Single Handle Bar Mounted, Mechanical Locking
Rear Brakes
Hydraulic Disc, Axel Mounted
Specifications
Color / Graphics
Bright White / Indy Red
Instrumentation
Check Engine Light, Mechanical Fuel Gauge Cap
Lighting
LED Running Lights, Single Rear Brakelights/Taillight
Other Standard Features
Horn, Tether, Electric Start, Safety Flag, Parent Adjustable Speed Limiter (1-15 mph), 1 Youth Helmet, Training DVD, Tool Kit, Battery Charge Port
Speed Limiting
The speed of this vehicle is restricted to under 10 MPH (16 km/h) at manufacture. The speed limiting device may be adjusted by supervising adults when they determine that their child is capable of handling additional speed. The unrestricted top speed for this model is 15 MPH (24 km/h)
Tires / Wheels
Wheelbase
37.75 in (95.8 cm)
Suspension
Front Suspension
Single A-Arm with 4 in. (10.16 cm) Travel
Rear Suspension
Mono Shock Swingarm with 4 in. (10.16 cm) Travel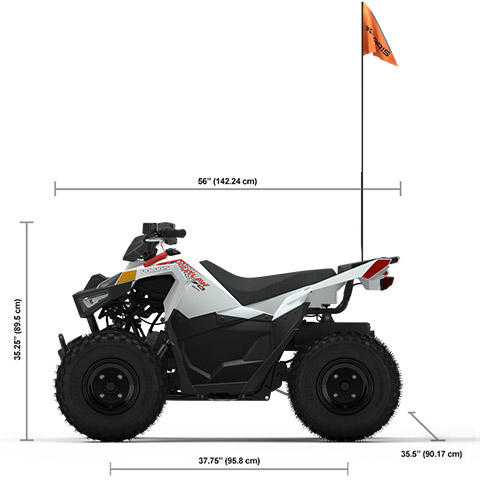 **Availability of some equipment, options and/or features, may be limited or not available due to global supply issues affecting our industry. Please continue to build your vehicle and request local dealer price but be sure to work with your local Polaris dealer to ensure the vehicle you purchase includes all expected features and equipment.

All pricing, specifications, claims, and information contained on this website are based upon current knowledge available at time of publication and are subject to change without notice, and Polaris assumes no responsibility for changes in pricing or specifications. Polaris assumes no responsibility for any inaccuracies, opinions, or omissions on this website. ©2022 Polaris Inc.