Adjustable Speed Limiting & Ergonomics
Tilt steering, a comfortable bucket seat for off-road ergonomics, and 5.7" of seat sliding adjustability for growing kids. Parents can also control vehicle speed and adjust with the skill level of the young drivers using the 4-Mode electronic speed limiting.
Long-Travel Front & Rear Suspension
Bumps in the yard and on the trail are soaked up by 5" of suspension travel up front and 6" of travel in the back. Plus a full 9" of ground clearance gives the Polaris ACE 150, and your young driver, the ability to navigate off-road obstacles.
Electronic Fuel Injected (EFI) 149CC Engine
The 149cc engine delivers a fun ride, consistent starting, improved idle quality, and a crisp linear throttle response. Polaris ACE 150 comes standard with electric start and automotive style controls, making it easy for young drivers to hit the trail.
Where comfort meets protection.
The Extreme Front Brushguard installs easily, comes with accessory light mounts built in for easy future upgrading, and provides you a convenient grab handle or place to wrap a tow rope when not in use.
Pro Armor® 20" Dual Row LED Light Bar
Extend your riding experience well into the night by adding a high intensity Pro Armor® 20" Dual Row LED Light Bar. The light bar features two rows of LEDs that pump out a whopping 9500 lumens.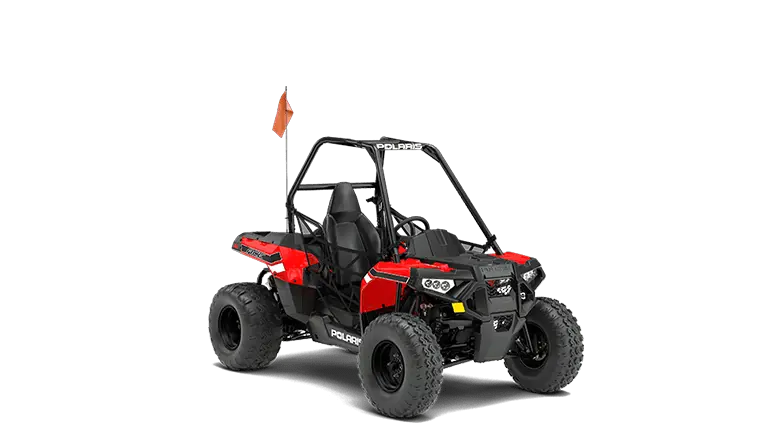 ANCHO

1.21 m (48")

DESPLAZAMIENTO

149CC

EDAD

Para los de 10 años en adelante
Polaris ACE 150 EFI
Desde
$3,999
Precio de venta sugerido por el fabricante en EE. UU.
Trim & Color Options
Indy Red
Includes:
4-Stroke Single Cylinder
Dual A-Arm 5.1 (13cm) Travel
Polaris GENERAL 1000 Gallery
( / )
Todos los precios, especificaciones, afirmaciones e información contenidas en este sitio web se basan en el conocimiento actual disponible en el momento de la publicación y están sujetos a cambios sin previo aviso, y Polaris no asume ninguna responsabilidad por cambios en los precios o especificaciones. Polaris no asume ninguna responsabilidad por inexactitudes, opiniones u omisiones en este sitio web. © 2021 Polaris Inc.