Sportsman 850 Ultimate Trail Edition Specifications
Motor y tren de potencia
Control de descenso activo
Estándar
Desplazamiento de cilindros
2 / 850 cc
Sistema de combustible/batería
Inyección electrónica de combustible / 400 CCA
Sistema de frenado de motor (EBS)
Estándar
Sistema motriz
Tracción AWD/2WD seleccionable a demanda One Touch
Tipo de motor
Cilindro doble con árbol de levas individual en la cabeza de 4 tiempos
Transmisión/diferencial
Cambios en línea PVT P/R/N/L/H automático
Dimensiones
Altura de los asientos
94 cm (37 in)
Altura libre desde el suelo
30.5 cm (12 in)
Capacidad de carga útil
261 kg (575 lb)
Capacidad de combustible
19.9 l (5.25 gal)
Capacidad para personas
1.
Clasificación de remolque del enganche
680.4 kg (1,500 lb)
Dimensiones de la caja de la plataforma (largo x ancho x alto)
ND
Peso seco estimado
871 lb (395 kg)
Portaequipajes delantero/trasero
55 kg (120 lb)/110 kg (240 lb)
Tamaño del vehículo general (largo x ancho x alto)
211.4 x 120.9 x 128.9 cm (83.25 x 47.6 x 50.75 in)
Tipo de enganche
Standard 1.25 in (3.2 cm) Receiver
Frenos
Freno de estacionamiento
Transmisión de estacionamiento/palanca manual bloqueable
Frenos delanteros/traseros
Disco hidráulico en las tres ruedas con palanca individual con freno hidráulico de pedal para las ruedas traseras
Especificaciones
Dirección hidráulica electrónica
Estándar
Instrumentation
All Digital Bluetooth Gauge, Speedometer, Odometer, Tachometer, Two Tripmeters, Hour Meter, Gear Indicator, Fuel Gauge, AWD Indicator, Volt Meter, Coolant Temperature, Hi-Temp Light, Clock, DC Outlet, Text and Call Notifications
Lighting
LED POD and LED Bumper Lights, Dual LED Brake lights/Taillights
Other Standard Features
3,500 lb. Polaris HD Winch with Synthetic Rope, Front Ultimate Series Bumper, Cut and Sew Seat, Bluetooth Display, In Pod Battery Charge Port, Painted Plastics, Painted Springs
Sistema de carga
6 Modular Rack Extenders with Lock and Ride
Ruedas/llantas
Distancia entre ejes
134.6 cm (53 in)
Llantas delanteras
27 X 9-14 DURO
Llantas traseras
27 X 11-14 DURO
Ruedas
14 in. (35.6 cm) Aluminum
Suspensión
Suspensión delantera
Doble brazo en A arqueado y sellado de gran altura libre y recorrido de 22.9 cm (9 in)
Suspensión trasera
Brazo en A doble arqueado de gran altura libre sellado, suspensión trasera independiente (IRS) de rodillo y recorrido de 26 cm (10.25 in)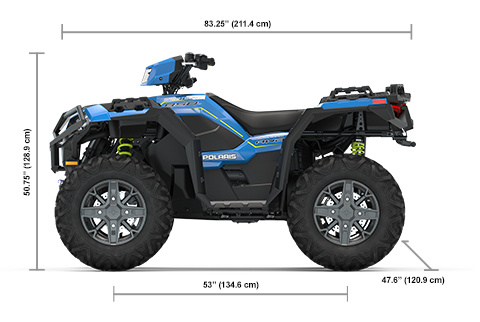 Todos los precios, especificaciones, afirmaciones e información contenidas en este sitio web se basan en el conocimiento actual disponible en el momento de la publicación y están sujetos a cambios sin previo aviso, y Polaris no asume ninguna responsabilidad por cambios en los precios o especificaciones. Polaris no asume ninguna responsabilidad por inexactitudes, opiniones u omisiones en este sitio web. © 2021 Polaris Inc.