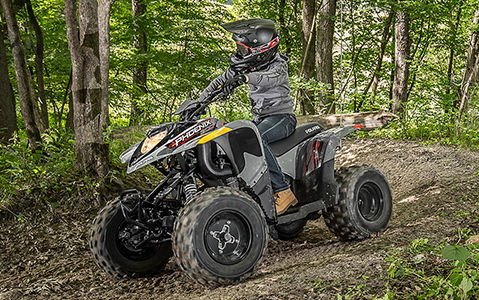 INTRODUCE YOUR KIDS TO THE THRILL OF OFF-ROADING
Perfect ATV to introduce your young riders to driving the trails. Ages 14 and older with adult supervision for riders under 16.
Share The Joy Of Off-Roading
Get your kids a ride of their own. The Phoenix 200 delivers reliable 196cc performance, an automatic PVT transmission, and a comfortable 7" front/6.5" rear of long travel suspension to keep the ride going all day long.
Every unit comes with one Polaris youth helmet, safety whip flag and speed limiting adjuster.
Starter kit includes training DVD led by Polaris certified trainers to educate your own young rider on all off-road safety basics.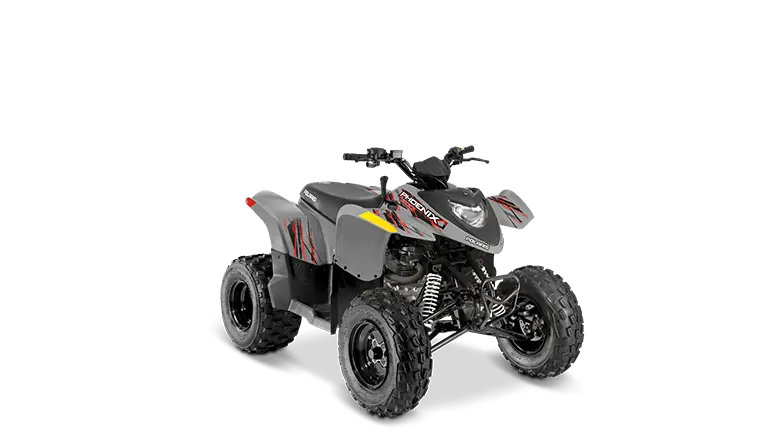 DISPLACEMENT

196cc

VEHICLE WIDTH

42"

AGE

14+
Phoenix 200
Desde
$4,299
Precio de venta sugerido por el fabricante en EE. UU.
Trim & Color Options
Avalanche Gray
Includes
Adjustable Speed Limiter
Electronic Fuel Injection (EFI)
196cc Engine
Automatic PVT Transmission
Dual A-Arm Front Suspension
6.5'' Long Travel Suspension
Polaris Youth Helmet
Todos los precios, especificaciones, afirmaciones e información contenidas en este sitio web se basan en el conocimiento actual disponible en el momento de la publicación y están sujetos a cambios sin previo aviso, y Polaris no asume ninguna responsabilidad por cambios en los precios o especificaciones. Polaris no asume ninguna responsabilidad por inexactitudes, opiniones u omisiones en este sitio web. © 2021 Polaris Inc.