Sportsman Touring 570 Sonic Blue Specifications
Find specifications below for the 2023 Polaris Sportsman Touring 570 Sonic Blue ATV. Specs include engine, horsepower, transmission/final drive, ground clearance, travel, engine braking system, instrumentation, lighting, suspension, payload capacity, hitch type, towing capacity, cargo system and tires.
Motor y tren de potencia
Control de descenso activo
No está equipado
Desplazamiento de cilindros
567cc
Sistema de combustible/batería
Inyección electrónica de combustible / 220 CCA
Sistema de frenado de motor (EBS)
No está equipado
Sistema motriz
Tracción AWD/2WD seleccionable a demanda One Touch
Tipo de motor
Cilindro individual con doble árbol de levas en la cabeza de 4 tiempos ProStar
Transmisión/diferencial
Cambios en línea PVT P/R/N/L/H automático
Dimensiones
Altura de los asientos
85.7 cm (33.75 in)
Altura libre desde el suelo
27.9 cm (11 in)
Capacidad de carga útil
220 kg (485 lb)
Capacidad de combustible
25.5 l (6.75 gal)
Capacidad para personas
2
Dimensiones de la caja de la plataforma (largo x ancho x alto)
ND
Distancia entre ejes
142.2 cm (56 in)
Peso seco estimado
731 lbs (332 kg)
Portaequipajes delantero/trasero
41 kg / 82 kg (90 lb / 180 lb)
Tamaño del vehículo general (largo x ancho x alto)
218.4 x 121.9 x 121.9  m (86 x 48 x 48 in)
Frenos
Freno de estacionamiento
Transmisión de estacionamiento/palanca manual bloqueable
Frenos delanteros/traseros
Disco hidráulico en las tres ruedas con palanca individual con freno hidráulico de pedal para las ruedas traseras
Especificaciones
Clasificación de remolque del enganche
555.7 kg (1,225 lb)
Iluminación
Luz alta de 50 W, Faros de luces bajas dobles de 50 W, Luces de frenos dobles/Luces traseras
Instrumentación
Indicador completamente digital, Velocímetro, Odómetro, Tacómetro, 2 medidores de recorrido, Cronómetro, Indicador de marcha, Medidor de combustible, Indicador de tracción AWD, Voltímetro, Temperatura del refrigerante, Luz de indicación de temperatura elevada, Reloj, Enchufe de CC
Sistema de carga
Lock & Ride, almacenamiento en seco delantero de 23 l (6 gal), almacenamiento trasero de 8 l (2 gal)
Suspensión frontal
Puntal MacPherson con recorrido de 20.8 cm (8.2 in)
Suspensión trasera
Brazo en A doble, suspensión trasera independiente (IRS) y recorrido de 24.1 cm (9.5 in)
Tipo de enganche
Amplificador estándar de 3.2 cm (1.25 in)
Ruedas/llantas
Dirección hidráulica electrónica
No está equipado
Llantas delanteras
25 x 8-12; 489
Llantas traseras
25 x 10-12; 489
Rines
Acero de 12 in. (30.5 cm)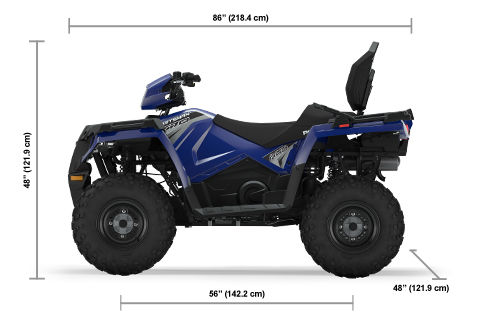 **Availability of some equipment, options and/or features, may be limited or not available due to global supply issues affecting our industry. Please continue to build your vehicle and request local dealer price but be sure to work with your local Polaris dealer to ensure the vehicle you purchase includes all expected features and equipment.

All pricing, specifications, claims, and information contained on this website are based upon current knowledge available at time of publication and are subject to change without notice, and Polaris assumes no responsibility for changes in pricing or specifications. Polaris assumes no responsibility for any inaccuracies, opinions, or omissions on this website. ©2022 Polaris Inc.