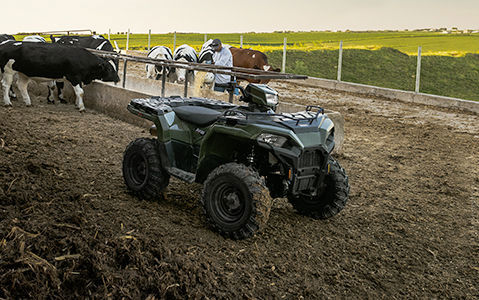 Caractéristiques du Sportsman 450 à cylindres horizontaux opposés
La légendaire suspension Sportsman offre une conduite tout en douceur pour amortir les bosses de toutes tailles. Le système de traction intégrale sur demande le plus rapide de l'industrie et le garde au sol accru hors pair offrent plus de traction et des randonnées avec des obstacles encore plus grands.
Plus robuste, plus silencieux et plus durable. Une nouvelle batterie avec accès facile à la recharge assure un démarrage fiable. Les nouvelles bagues de suspension scellées restent stables, silencieuses et demandent moins d'entretien. Et les pneus plus larges de 63,5 cm (25 po) ont été renforcés jusqu'à 6 épaisseurs pour une durabilité et une résistance à la perforation accrues.
Plus accomplie que jamais avec le meilleur rangement intégré de sa catégorie, une capacité de remorquage augmentée de 131 kg (1 350 lb), une capacité de bâti combinée de 122,4 kg (270 lb) et tous les nouveaux accessoires. Cette machine offre la plus grande facilité d'utilisation, mais toujours pour le rapport qualité-prix que vous attendez.
ENSEMBLES ÉQUIPÉS DE SÉRIE
Faites monter le volume de votre Sportsman pour travailler plus intelligemment ou améliorer votre performance sur les sentiers grâce aux ensembles équipés de série utilitaires ou tout-terrain vous permettant de gagner temps et argent.
Options de garniture et de couleur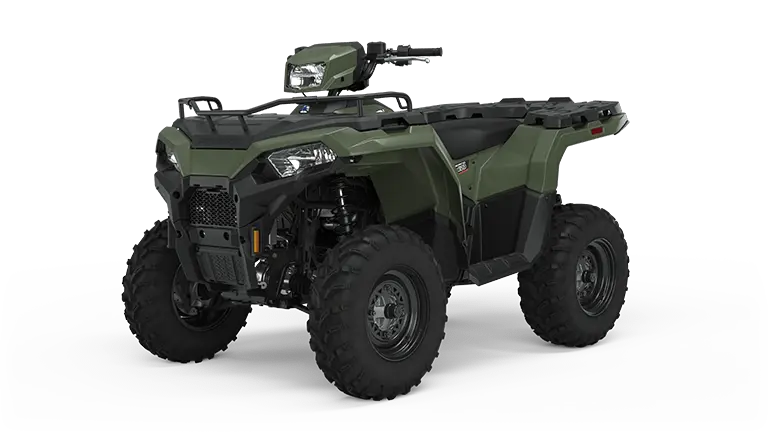 Sportsman 450 à cylindres horizontaux opposés
À partir de
7 999 $
PDSF (CA)
Le Sportsman 450 à cylindres horizontaux opposés offre la conduite et la maniabilité légendaires dont vous avez besoin à un rapport qualité-prix incroyable.
Factory-Installed Packages Available.
Sportsman 450 H.O. EPS
À partir de
9 299 $
PDSF (CA)
The same, hard-working, value-packed performance of the Sportsman 450 H.O. upgraded with high output EPS and more to give you the performance you need.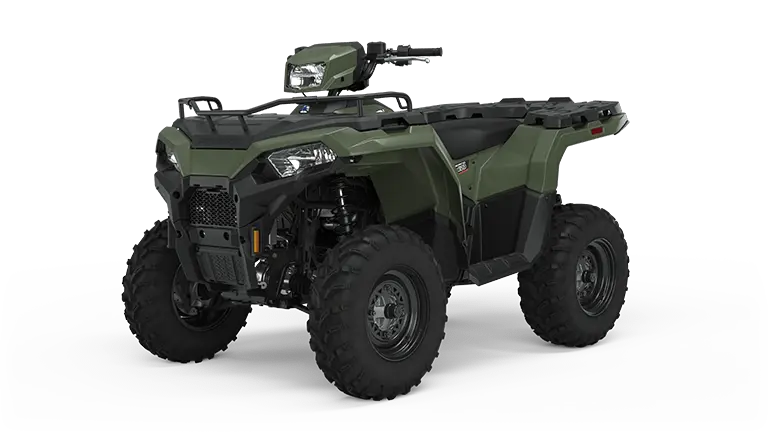 LARGEUR

121,9 cm (48 po)

HP

33

DÉBATTEMENT

29,2 cm (11,5 po)
Sportsman 450 H.O. 
À partir de
7 999 $
PDSF (CA)
Un supplément logistique de 200 $ s'appliquera
779 $ CA avec transport et preparation
Options Sage Green
Comprend
Débattement de suspension arrière de 24,1 cm (9,5 po)
Pneus à 6 plis de 63,5 cm (25 po) avec jantes en acier de 30,5 cm (12 po)
Capacité de remorquage de 612 kg (1 350 lb)
LARGEUR

121,9 cm (48 po)

HP

33

DÉBATTEMENT

29,2 cm (11,5 po)
Sportsman 450 H.O.  EPS
À partir de
9 299 $
PDSF (CA)
Un supplément logistique de 200 $ s'appliquera
779 $ CA avec transport et preparation
Options Sage Green
Comprend
Direction assistée électronique
Doubles feux arrière
Débattement de suspension arrière de 24,1 cm (9,5 po)